Whether you need to ignite and focus your ideas or your team's talents, I'm here to help. The ways I do this are as varied as creativity itself, but I essentially offer two types of services, which you can learn more about: consulting and workshopping.
These services are built on 25 years of experience, which includes working with the following brands.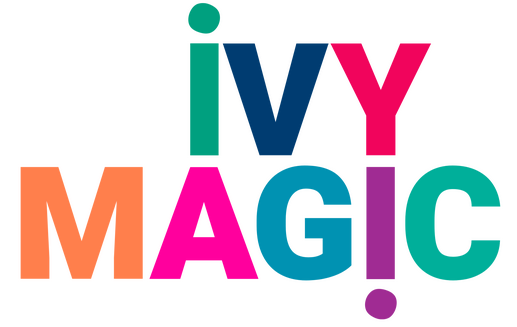 The consulting services I offer to internal communications teams and agency creatives are designed to help them own their distinctive talents and create effective, sparkling content.
Nothing to see here.
Want details (including pricing)?
My workshopping services include guided ideation and whiteboarding (and sometimes a bit of writing and design guidance) to focus your ideas and help them take flight. Would you like an example? Or three? So you shall have!
Need more details (including rates)?
Hi! I'm Jeanne. love creating and co-creating, inspiring and being inspired, laughing and occasionally sparking laughter. If I could be a mix of three fictional characters, I'd probably choose Alice, Jo March and Sydney Bristow. In reality, I'm the owner of IvyMagic, a consultancy with a backstory that's summarized below.
IvyMagic began as a question I asked myself while sitting on a piece of driftwood, staring into the Pacific Ocean in July 2013. (Oh, I can still feel my toes digging into the sand, a warm cup of coffee in my hand, a poetic moment of clarity!) I knew something was off about my career and wondered, "How can I turn what I love into what I do?"

It took me another six years to see that I was already doing what I loved but usually only in flashes. The ways I brought the most value to co-workers and clients during my career—the ways I also achieved a satisfying state of flow—were strewn about projects and teams and employers. Sometimes they were part of my actual job scope; often they were not.
I finally realized that if I could just thread all those things together, I could spread more pixie dust and achieve even more success for clients. But I also had enough experience to know that would be difficult if I was someone else's employee. That's why I took a leap. I set off on a new adventure—one that would be both independent and collaborative. And then, dear reader, I summarized my origin story in less than 200 words.

I always love hearing other people's backstories, too. So, tell me about yours sometime—perhaps while we're working together. If that sounds good to you, let's chat.
If you want to know more about me, please check out my brief personal profile. It might clue you in to whether or not I'm your kind of collaborator.
Let's get started with the basics. I was born in Portland, Oregon, and I was raised in its suburbs. I'm still an Oregonian, although I love to travel (15 states, 18 countries, three continents—and counting).

I'm a daughter, a sister, a niece, a cousin, a devoted honorary aunt, and I'm lucky to be friends with some sparkling, inspiring people.

In 1996, I graduated from the University of Oregon, earning a Bachelor of Arts in Journalism with an emphasis in advertising.
I've worked for various businesses
since then, ranging from an award-winning boutique ad agency to a global Fortune 50 technology company.

While I've remained based in the Pacific Northwest, I've also been a 100% remote employee. Collaboration at a distance is nothing new for me, and I've learned to make it fulfilling, enriching and fun.

In terms of my talents, values and temperament, the assessment results in the image below give a pretty accurate picture of who I am, as does this pleasantly eclectic Q&A.
Growing up, which fictional book character did you fantasize about being?
I was mad about Alice in Wonderland and loved dressing up as Alice for a Book Character Day in fourth grade, yet I longed to be like the talented Pauline Fossil in Ballet Shoes and Sorrel Forbes in Theater Shoes.

If you could go to outer space, which planet would you visit first and how would you bedazzle your spacesuit?
I'd visit one of the most recently discovered exoplanets for sure! And as much as I love accessorizing, a NASA spacesuit is pretty spot-on without any additional baubles.

To borrow from Monty Python: What is your quest?
I want to craft a life that's full of more love and creativity with each passing year.

Is there a song lyric that best describes you?
Not yet.

What's the best advice you ever received from a stranger or someone you barely know?
One of the founders of a large, celebrated ad agency once told me that a female copywriter I admired, who worked for him, was almost fired for not being true to her own voice. He said I should remember that, too—that my voice was worth it.

What is your favorite word and why?
Telekinetic. It's a multi-syllable word without pretension. It sounds substantial, yet a little mischievous. And of course, who wouldn't love a word that calls to mind the siblings in Escape From Witch Mountain?

Are you a Mac or a PC?
Pssst. Don't tell the PCs I've worked with, but I'm absolutely a Mac.
Where are you most creative?
It's a three-way tie: home, the Oregon Coast and Place des Vosges. (Honorable mention: trains)

In five words or less, how did you get here?
Curiosity and countless hours

Did any specific teachers help shape or inspire your interest in writing and creativity?
Oui! My third-grade teacher, Mrs. (Susan) Vasquez, gave the class assignments that helped me pour my imagination into words. Before her, I didn't know I could use language to create imagery in other people's minds—or evoke emotion in their hearts. In college, my copywriting professor, Ad Team advisor and mentor, Ann Maxwell, set me on a path toward embracing my uniqueness as a writer and creative person. (I'm thankful that she has now become a friend who also sends me pixie dust).

How do you hard-boil an egg?
I put the eggs in a pan (nothing fancy) and fill the pan with enough water to just cover the eggs. Then I put the pan on the stove, turn it on high and wait for the water to boil. Once it starts boiling, I set a timer for 10 minutes. I also turn down the temperature if the water is about to boil over. When the 10 minutes are up, I remove the pan from the stove, put it under the faucet in the kitchen sink and run cold water into the pan to cool the water a bit. I let it sit in the sink until the water's completely cooled before I remove the eggs. (I've learned that if I remove them before the water's cool, they're harder to peel.)

May I add a question to this list?
Sure! Just send it my way.
Questions submitted by: Ed, Eric, Leah, Megan, Noah, Penelope, Sara and Tara. Thanks for your curiosity.
What's it like to work with me? Take a gander at what some former collaborators have to say. (Please note that a quote does not indicate an endorsement from an individual's employer.)
---
"Jeanne is a dream to work with. Her work ethic and her creativity are refreshing and on par to none. She is excellent at helping teams and organizations to think differently and moving audiences to act. One of the best in the business!"
Keri Franklin
Transformation Office Chief of Staff
Juniper Networks
❤︎
"Jeanne is brilliant at helping senior leaders render complex ideas into quintessential messages and visuals that educate and persuade audiences very effectively. Her positive energy also makes the whole process fun."
Dr. Vikas Sharma
Sr. Principal Engineer, Sr. Director,
Algorithms Pathfinding R&D
Intel
❤︎
"Jeanne can take the most mundane content and breathe inspirational life into it. She collaborates easily and listens astutely. Best of all, she's one of the nicest people I've ever had the pleasure to work with."
Kelly Rose
Senior Marketing Manager
CLEAResult
❤︎
"Jeanne inspires excellence, and her dedication is bar none. She has impressed me with her knowledge, drive and command of the work being produced. I can truly say that she's a creative partner that you want in your corner."
Michael Murdock
SVP/Group Account Director
Bright Red
❤︎
"Jeanne is an amazing mentor. She provides encouragement when needed and is great with constructive feedback. All in all, she's a great asset to any team that she's working with."
Megan Merry
Creative Director
ITA Group
❤︎
"From storytelling and writing to design and data, Jeanne leans into her collaborators' strengths to help create new, exciting content. She inspired and directed my creative output, fueling my ability to tell compelling stories."
Mackenzie Walker
Content Strategist
Facebook
❤︎
"Jeanne has brought out the best in me and made my ideas better. She is brilliant at getting to the core of a business problem and determining the best way to tell stories in a unique, compelling way that's meaningful."
John O'Connell
Executive Creative Director
CMD
❤︎
"Jeanne's professionalism and insight quickly up-leveled my brand into one that resonates with my own design aesthetic, audience and business concept—while helping my designer to grow her finesse and confidence."
Flame Schoeder
Master Certified Coach
Coach Flame
❤︎
"Jeanne consistently brings strategic thinking and creativity to a wide range of projects. She is a collaborative partner who thinks beyond the obvious solution and encourages others to do the same."
Elissa Kevrekian
Associate Creative Director
Sparkloft Media
❤︎
"Jeanne is indispensable. She sees through the dross to unearth the voice and potential of a project (and its creators). When she works her magic, dull and laborious become exciting; unfocused becomes precise; and those who feel lost regain energy, passion, and purpose. A project becomes what it was always meant to be."
Tanya Dennis
Writer and Editor
Tanya Dennis Books